Volgende activiteiten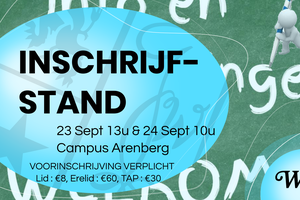 Register station
eventMon 23/09 1 p.m. - Mon 23/09 5 p.m.
location_onGrasveld Campus Arenberg III
The time has come to begin the new academic year, which also means a new year for Wina! It's highly recommended to become a member to enjoy the benefits of Wina to their fullest, some of these benefits include: • Discounts on course books, cantusses and more; • As a member, you get priority on Wina- and Scientica-activities; • You get your own member card; • Above all: You'll get a free bicky burger at your registration! The registrations will take place on campus, Monday 23 September (13:00-16:00) and Tuesday 24 September (10:00-16:00). Missed one of our registration days? No need to worry: you can still become a member later on if you pay a visit to Studentenwijk Arenberg 4/0. The membership card costs €8 for regular members, €30 for Terrific Academic Personnel and €60 for honorary members. !Important! Do not forget to pre-register on www.wina.be! Greetings GAK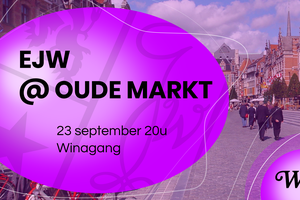 EJW @ Oude Markt
eventMon 23/09 8 p.m. - Mon 23/09 11 p.m.
location_onWinagang, Studentenwijk Arenberg 4/0 3001 Heverlee
Oude markt verkennen met de eerstejaars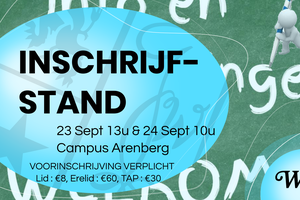 Register station
eventTue 24/09 10 a.m. - Tue 24/09 4 p.m.
location_onGrasveld Campus Arenberg III
The time has come to begin the new academic year, which also means a new year for Wina! It's highly recommended to become a member to enjoy the benefits of Wina to their fullest, some of these benefits include: • Discounts on course books, cantusses and more; • As a member, you get priority on Wina- and Scientica-activities; • You get your own member card; • Above all: You'll get a free bicky burger at your registration! The registrations will take place on campus, Monday 23 September (13:00-16:00) and Tuesday 24 September (10:00-16:00). Missed one of our registration days? No need to worry: you can still become a member later on if you pay a visit to Studentenwijk Arenberg 4/0. The membership card costs €8 for regular members, €30 for Terrific Academic Personnel and €60 for honorary members. !Important! Do not forget to pre-register on www.wina.be! Greetings GAK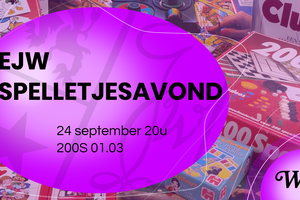 Board game night
eventTue 24/09 8 p.m. - Wed 25/09 midnight
location_onCampus Arenberg 200S 01.03
Playing board games to welcome the freshmen